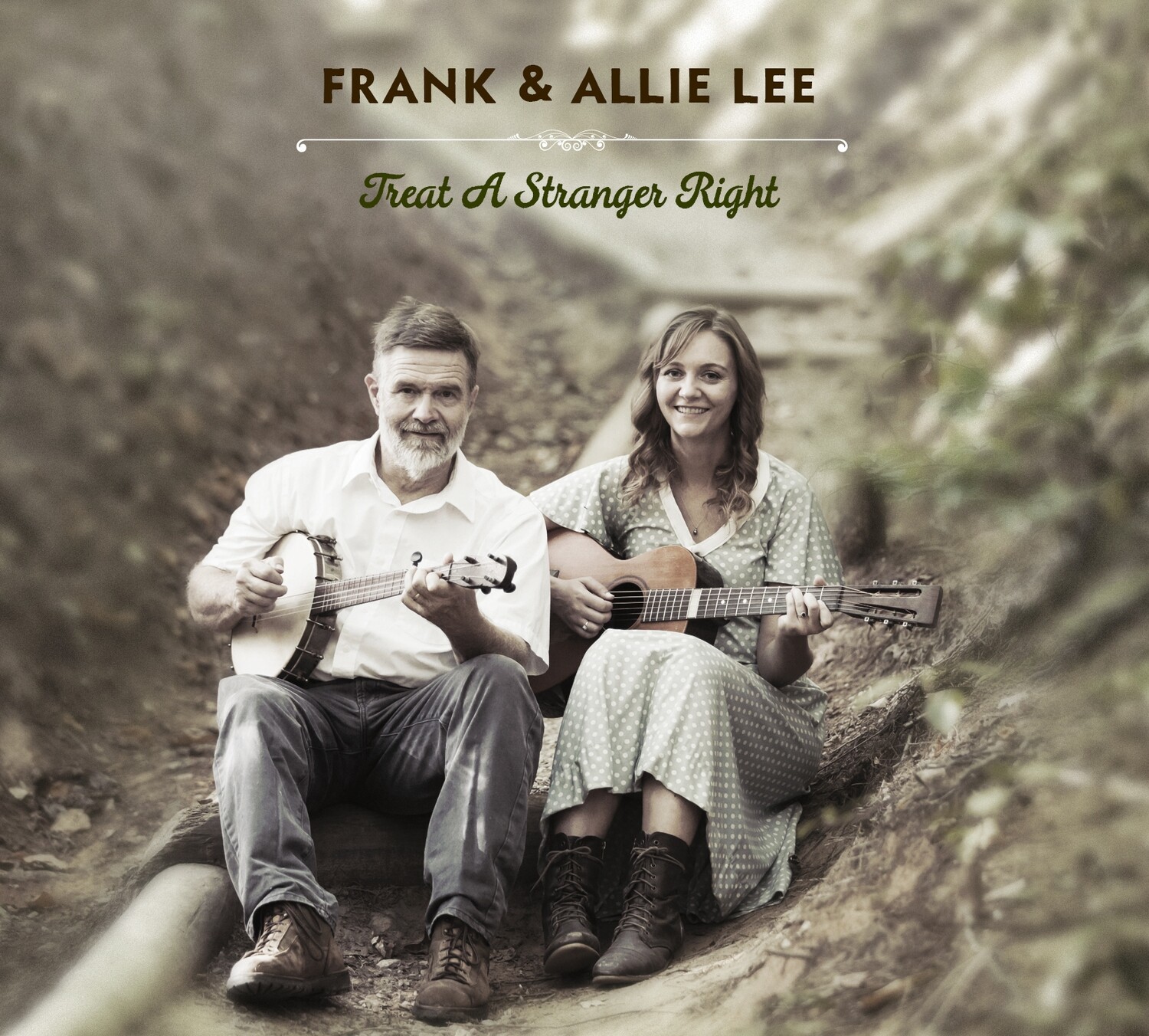 Treat A Stranger Right - Frank & Allie Lee (2020)
SKU 00023
Product Details
Treat A Stranger Right by Frank & Allie Lee was #1 on the NACC National Folk Radio chart for January and February 2020, and 6 of the top 25 songs that month were from this album. It was also in the top 6 albums for the weeks from January 29-Feb 19 and featured on Folk Alley's playlist for February 17.

Treat A Stranger Right (click here to hear samples) features 12 songs from an assortment of country & blues early recording artists, carefully chosen, learned, and interpreted by Frank & Allie. A variety of instruments awaits you. You will hear Frank's 1920s Gibson guitar, his 1932 National Duolian Resonator guitar, his 1936 Carson Robison branded guitar made by Gibson, and Allie's early 1900s Washburn guitar that was a gift from a family friend. Banjos on the album include builds by Chuck Lee, Dean Robinson, Jeff Delfield fretless, Jeff Delfield fretted, and Pisgah Banjos as well as Frank's signature nylon string fretless. Allie's harmonica makes an appearance, plus Frank playing his friend John White's heirloom fiddle. Grounding many of the songs, there is upright bass supplied by recording engineer Bruce Lang, and all pieces but one feature Frank and Allie's powerful, heartfelt voices in harmony.
Track list:
1. Sugar Babe
2. Lost John
3. The Sailor and The Soldier
4. When I Was A Cowboy
5. You Are My Flower
6. Frankie
7. Everybody Ought To Treat A Stranger Right
8. Darling Corey
9. Lazy Farmer
10. White Top Mountain
11. Sugar in the Gourd
12. Come and Go With Me
Praise for Treat A Stranger Right

"Love that Western Carolina sound. Beautiful harmonies! I'm so happy to see REAL folk music getting some recognition." - Ken Nagelberg, DJ
"Love it. The harmonica slays!" - Anonymous first time listener
"You sold me with the title! Thank you so much for sharing this with us. My heart needs things like this." - Anonymous first time listener
"The new album is WONDERFUL!!! I received it yesterday and glad it's not vinyl because it would be worn out already =) ...and thanks for signing and sending with the personal note. That makes it extra special and a lot of extra work if you did that for the tens of thousands you must have sold already. (OK...wishful thinking but folks really need to buy this rather than stream.) I find CD's to be more convenient actually and much more likely to be played more than streaming but I suppose it's the new way.
My favorite song on the album is nearly impossible to narrow down but I sort of lean to "When I was a Cowboy"...or maybe "The Sailor and the Soldier" (Have never heard that one!) ....or maybe "Frankie" for the banjo virtuosity behind the great voice. I don't know...loved them all. I do believe you nailed it...and your recording engineer really did a great job too. It sounds live but nothing overpowers, especially just the right amount of bass. Thank you and please keep recording for the rest of us who dream of playing like you two." - John Spain, fan
Save this product for later